Getting to Know Us
Luke Tyrrell, owner & operator, was born into a subsistence lifestyle in rural Alaska, where he was raised flying, hunting, and trapping with his family. After spending his first season in a guiding camp at the age of 15, he has worked in the industry ever since, making guiding & outfitting his exclusive employment.
Luke learned from a young age that small aircraft are the key to accessing the remote terrain and hunting opportunities throughout the state, and he earned his pilot's license at the age of 17. He later went on to earn a commercial pilot's license, and now personally flies all of his hunters, in addition to guiding several hunts a year.
Aided by his brother Wesley Tyrrell and veteran Alaskan guides – Tyrrell's Trails takes a limited number of sportsmen each year, allowing them to provide an extremely high quality, customized experience for each hunter. With a lifetime of experience hunting and flying in the Alaskan wilderness, Luke and his crew are equipped with the tools and knowledge required to execute a professional, personal, and effective hunt.
If you're dreaming about hunting in Alaska give us a call at 907-888-6348, we'd love to hear from you.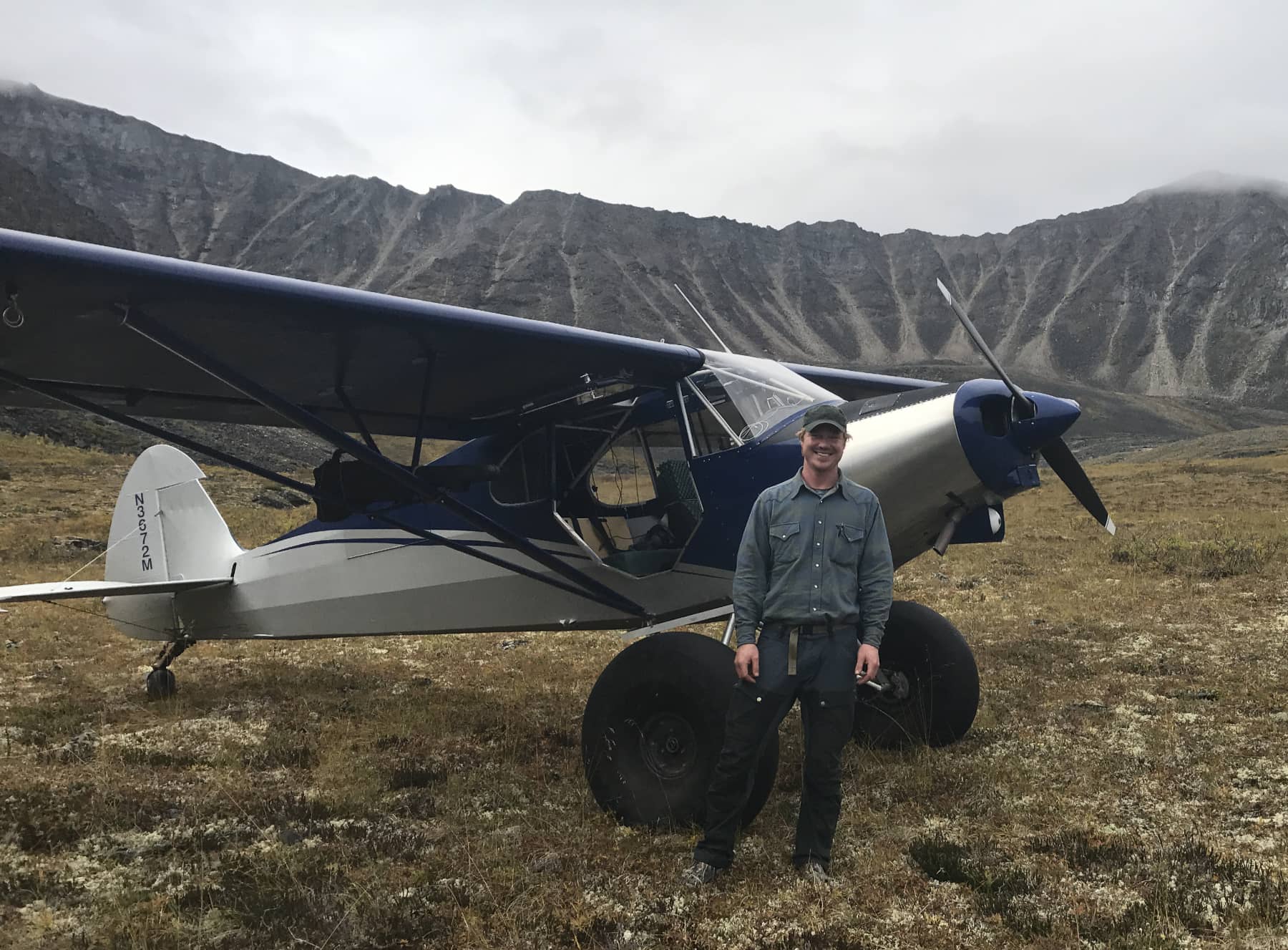 Professional hunter & commercial pilot. Luke is passionate about hunting and sharing the remote corners of Alaska with each and every hunter.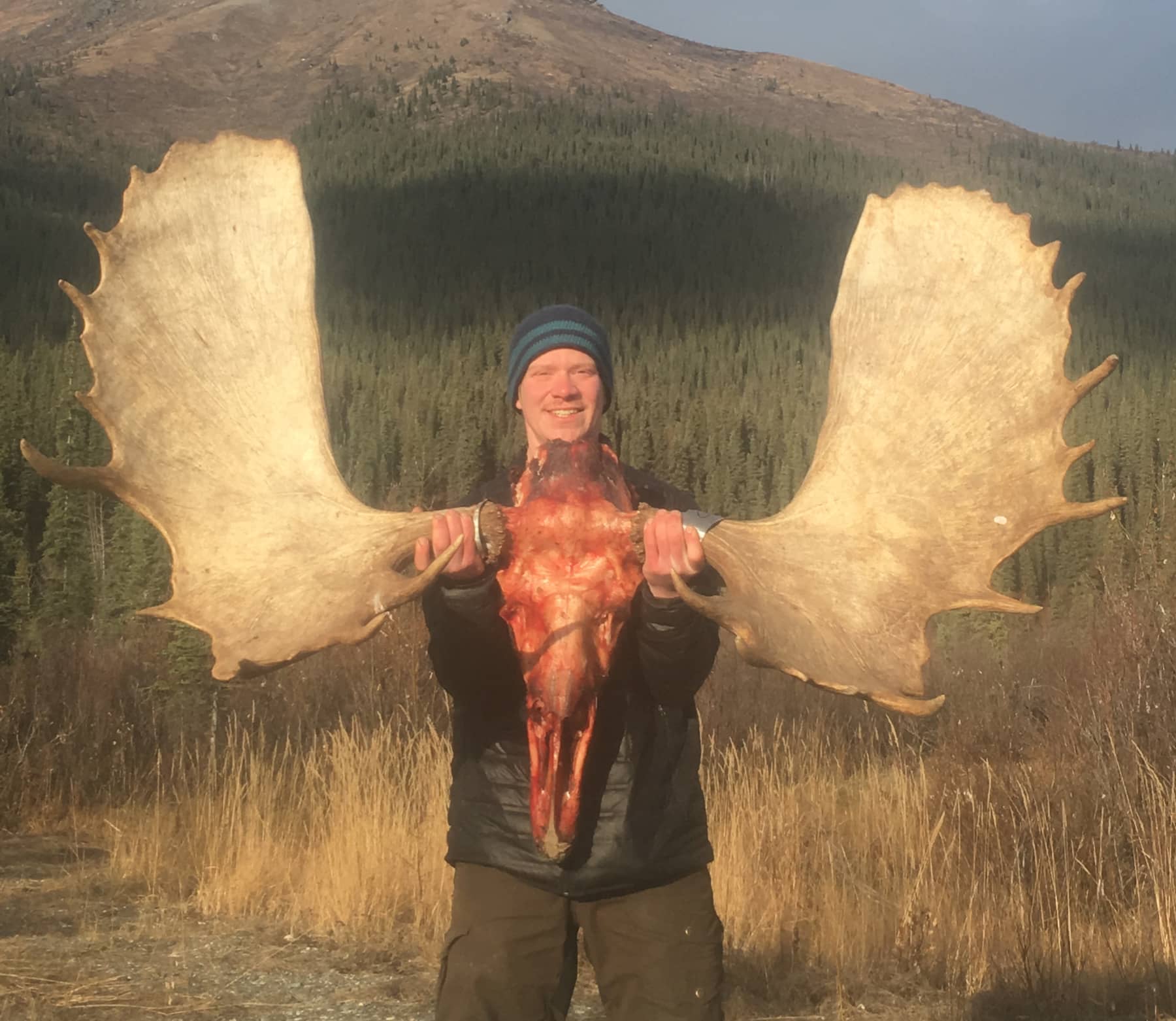 As a born and raised Alaskan hunter and professional guide, Wesley spends 100+ nights in a tent every hunting season. An expert hunter, woodsman, and Moose caller, Wesley attends to each hunts preparation, and works tirelessly to ensure every hunter returns with stories of a lifetime and trophies to support their tales!
Why Hunt With Us?
Here are a few key aspect of our operation and what to expect while on a Tyrrell's Trails hunt.
Accommodations
– Base Camp: We have our own hunting lodge! All hunts start and end at our lodge (we call it base camp). This allows hunters the necessary time to make sure everything is in place before heading into the field. After the hunt we will return to the lodge, unwind and prepare your trophy for transportation.
– Spike Camp: Our spike camps consist of high quality tents designed specifically for use in Alaska's harsh weather conditions. These tents are equipped with cots, propane cookware/heaters, and plenty of food and fuel for the hunt. Spike camps will be in place and attended before the hunters arrive at base camp.
Transportation
– The true key to success on any Alaskan hunt is access to the most remote hunting areas! We have high performance aircraft equipped with tundra tires, floats, and skis, allowing limitless access to the vast wilderness surrounding our remote lodge. This equipment paired with years of experience exploring and piloting bush Alaska allows us to access terrain others can only dream of.
– Experienced pilots on call both provide peace of mind for the safety and security of our hunters and allow for relocation as required during the hunt. We pull all the stops and put in 110% effort to make sure all of our hunters have the experience of a lifetime and opportunities to harvest multiple animals!
Hunt Styles
– Spot & Stalk: Hunters climb to a vantage point and spend each day searching for game and glassing the beautiful surroundings. Walking with your eyes ensures you cover the most ground every day!
– Float Hunts: Rivers are the highways of the wilderness, traveling them is a great way to cover country and change the scenery every few days! We hunt 3 major drainages that can offer float hunts up to 75 miles in distance. High quality rafts make floating safe and comfortable. During late season Moose hunts, animals are often harvesting on the riverbanks, this is an excellent opportunity to harvest late season Grizzly Bears, migrating Caribou, or traveling Wolves.
– Stationary Calling: Our Moose hunt coincides with the rut! We have years of experience calling trophy Moose. Coaxing the animals to come to you is a great way to draw animals that cannot be spotted in the brush and makes for a very exiting memory. Calling the same location daily is sure to lure in rutting Bulls in the course of a week.
Trophy Care
– Trophies will be transported from the field, back to Chandalar Lake base camp by myself and camp staff. There they will be cared for and prepared for shipment. Arrangements will then be made to ship trophies to a trophy exportation company in Anchorage, Alaska. From here hunters will be contacted directly by the export company to arrange transporting their trophies to a taxidermist of their choice.
License and Tags
– Hunters should purchase their hunting licenses and required tags online well in advance of their arrival. These can be purchased from the Alaska Department of Fish and Game and will be mailed directly to hunters homes prior to their trip. Please coordinate with me to ensure proper hunting licenses and tags are secured well before your trip date.