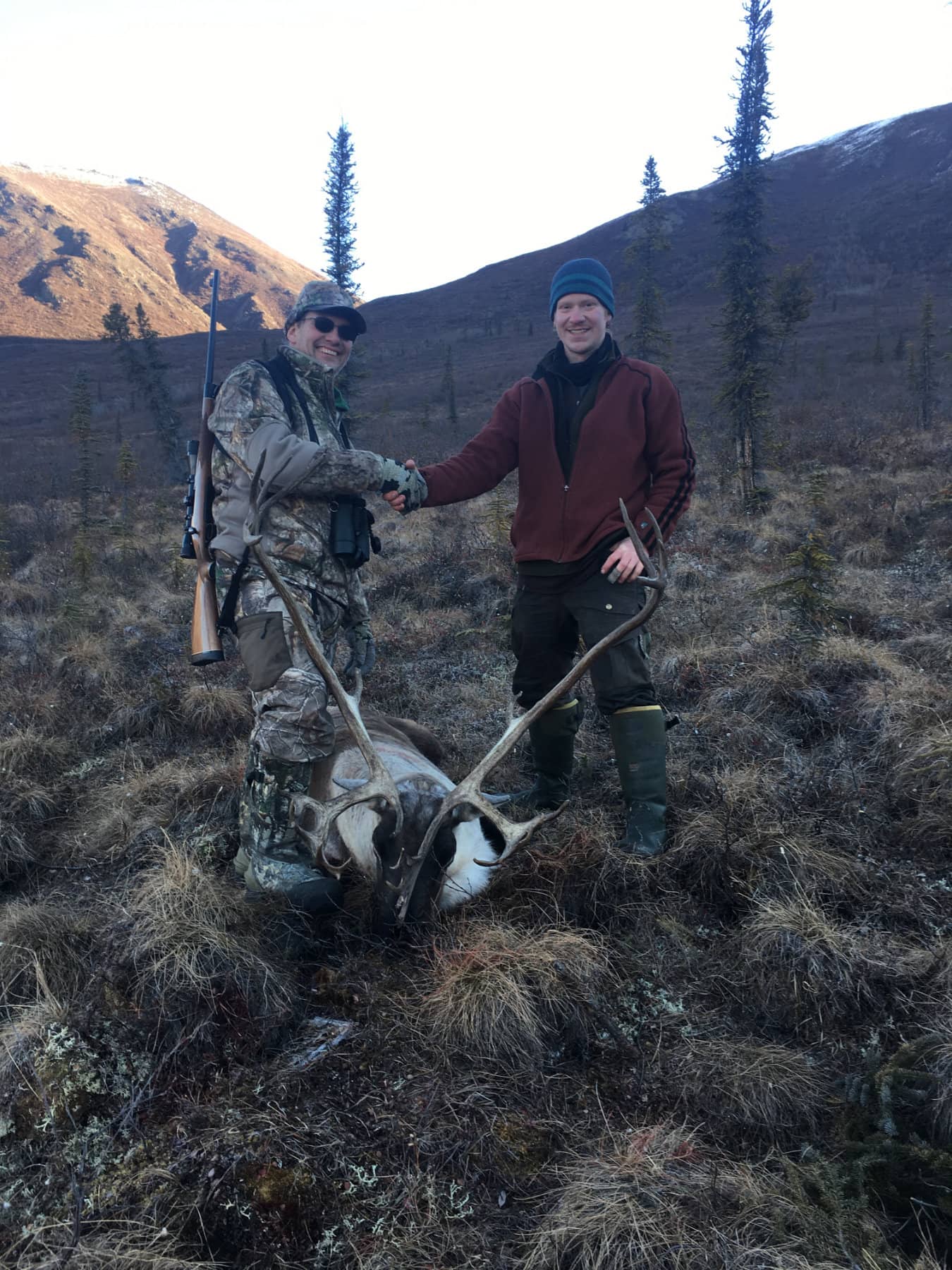 I hunted with Tyrell Trails Hunting Adventures in September 2018. It was the Adventure of a Life time , For me a Dream come true. a Bucket list Hunt., Luke is a good Outfitter ,Pilot , and Guide. These are Honest people. Luke even offered to postpone and hold my hunt until the next year because the Caribou Migration was late. But I am so glad I went as scheduled. Luke told me that there was a good chance at bagging a Grizzly bear on this Hunt on a Trophy Fee., as it was booked as a Caribou Hunt. So I Went on my scheduled Hunt were I saw 3 Grizzly's and had 2 shot opportunities. Where I Harvested a Beautiful old big Bore Grizzly Bear on the third day. The Next day Luke moved us to where the Caribou were when they finely showed up in his territory.
The Following day I Harvested a Very Nice Barren Ground Caribou Bull. He also move the other Hunter in Camp That week to a another location where he Harvested 2 very nice Caribou Bulls, on the last day of the Hunt. I also had 3 shot opportunities on Wolfe's. I Missed the one I did shoot at but that was my bad. We also saw 6 Bull Moose and a Cow Moose. and The Bulls were all Big with 5 of them over 60 inches. I wish that the season would have been open for Moose. I also saw 8 Doll Sheep on this Hunt at least 3 were Rams. and when the Migration started I saw over 100 Caribou in one place and saw Thousands from the air flying out.
Luke's Brother Wesley was My Guide. He is the best Guide I have ever Hunted with in My life., and I been on a few Hunts. He was very professional, By the end of the hunt he was a Friend. He got me on Game., was Patient with me and never left me behind. I messed up my knee walking out on the second day of the hunt. Wes my guide hunted with in my limitations and we still bagged game. The Packer Travis was good fellow too. and I was glad he was there when the game was down. Luke also just bought a Beautiful base camp with a nice lodge and cabin you will get to stay at before and after you go to spike camp. If you want a Good Hunt with a A+ outfitter book your hunt with Tyrell trails. I will If I ever get the Chance to go Hunt Alaska in the future.
These Guy's are the real deal.