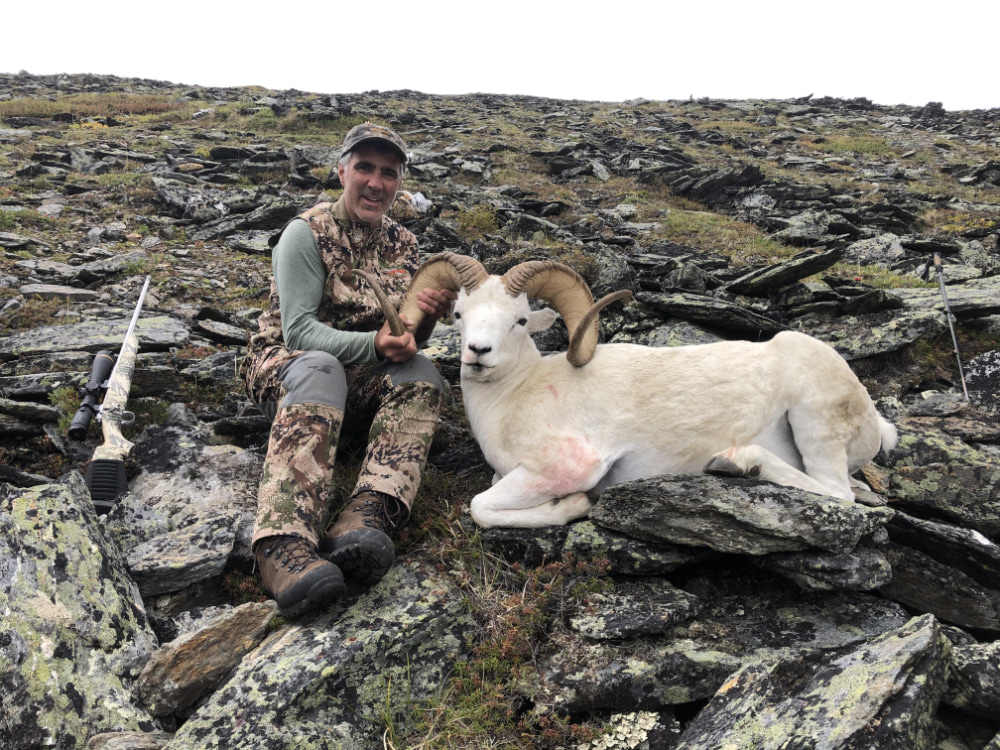 As most reviews of Alaskan hunts state this was for me the "hunt of a lifetime". The effort that we as hunters put into preparing for such an adventure that includes the blessing from our families to be away from home for the extended period of time required, the physical and mental training for months prior to the hunt, and of course the financial investment can all be for nothing if the outfitter does not hold up their end of the agreement. I can state unequivocally that Luke and the entire team from Tyrrell's Trails went above and beyond to ensure that my dream hunting trip to Alaska was everything I had hoped for and more. And I don't say that simply because of the beautiful Dall sheep that I was fortunate to harvest but because everything leading up to and after that moment provided by Luke and the team was flawless in its execution.
The lodge on Chandalar Lake is truly gorgeous, rustic yet comfortable with views in every direction to die for. We actually spotted both sheep and grizzly bear right from the lodge. And the shower house with "hot" water is incredible after spending a week out in a spike camp. Luke's parents are constantly on the go, Rick shuttling people and gear from the lodge to the airstrip, Laurel cooking great meals and helping process the harvested game. Luke's brother Wesley is also a lead guide in the outfit with a wealth of expertise. I truly loved this complete "family" approach to the business and the feel that it brought to the entire operation. One other aspect that truly differentiates Tyrrell's Trails from many other Alaskan outfitters is that they have their own planes. Three (3) wheeled and one float plane allows them to keep their hunters on the game where ever it may be within their vast hunting area.
My sheep hunting guide Michael and packer Alex were complete professionals well prepared and made my stay camping and hunting in the Alaskan wilderness comfortable and fun. Michael is a master Alaskan guide and has literally guided "countless" hunters on successful Alaskan adventures. His sense of humor and wealth of knowledge made the experience unforgettable. Like myself our young packer Alex was making his first trip to Alaska and his first sheep hunt as well. Alex was super accommodating and worked extremely hard to ensure I had a great time.
As I stated earlier this was my first Alaskan adventure and won't be my last. I plan on hunting moose and grizzly bears again with Luke and the team at Tyrrell's Trails. If you are looking for the "Alaskan adventure" of a lifetime I would strongly encourage you to consider Tyrrell's Trails in the Brooks Range!